Sanitization and Disinfection Services in Rochester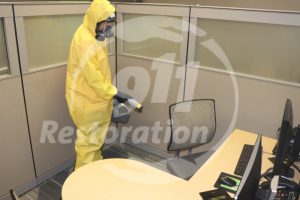 COVID-19 has changed the world. 
The severity of the pandemic has caused several residential and commercial business owners in Rochester to ramp up their sanitization efforts. 911 Restoration of Rochester provides quality professional sanitization, disinfection, and deep cleaning services for peace of mind, 24/7. We use high-quality disinfection tools and decontamination equipment to keep you and your family or colleagues safe. 
Get Peace of Mind During These Times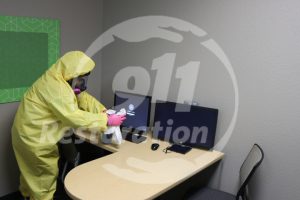 Sanitization has become a priority for many commercial businesses and properties in Rochester. Make sure you stay updated with health and safety protocols from your city, county, and state. As a restoration company, we've prioritized sanitization for decades and have the skills and compassion to tackle this process. 
Our sanitization teams in Rochester are trained to follow current CDC and EPA protocols when disinfecting surfaces at your property. As a fully-certified national cleaning and fire damage restoration company, we have the equipment and expertise to ensure your home is thoroughly sanitized.
911 Restoration provides same-day sanitization for residential and commercial properties, including retail stores, facilities, offices, and other buildings. Our team of sanitization professionals wears proper gear and handles chemicals and other disinfecting tools with care and expertise. 
Disinfecting is the process of killing germs on surfaces using chemicals to help lower the risk of viruses and other bacteria spreading.
As general hygiene and health tips, it's important to keep your property clean and sanitized year-round. This is why reaching out to 911 Restoration for assistance with efficient and thorough sanitization is important. 
If you clean countertops or other areas of communal areas, always remember to wear disposable gloves and practice disinfecting commonly shared or frequently touched surfaces and areas. We'd recommend reaching out to us for all deep cleaning or disinfecting services. 
Is your commercial property meeting its sanitization and deep cleaning requirements? Contact 911 Restoration of Rochester today for all your commercial water restoration and sanitization needs. Our trained IICRC-certified technicians perform sanitization and disinfection services and restore peace of mind by fighting germs, bacteria, and mold outbreaks at your commercial property. We service Rochester and all surrounding areas like Henrietta and Penfield 24/7.