Mold Removal in Rochester
As a nationwide disaster restoration company, 911 Restoration of Rochester provides urgent mold remediation and mold removal service in Rochester and surrounding areas like Henrietta and Penfield. 
Moisture that remains trapped or not handled thoroughly by a professional mold decontamination company can lead to hazards and structural decay.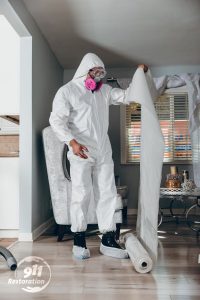 From a flooded basement to a ceiling leak, our mold cleanup crews are on call 24/7 to assist with any type of water damage Rochester NY or mold removal emergency. Our mold inspection technicians are certified in IICRC and special techniques to eradicate a mold infestation. They provide quality mold remediation services as well as mold inspection for properties in Rochester and surrounding areas.
As mold decontamination experts, 911 Restoration is trained to tackle both visible and invisible fungus at your Rochester property. They use professional dehumidifying tools and techniques to eradicate the source of an infestation. Fungus that is not treated can lead to structural damage as well as health issues like respiratory illness or allergies. If you own a commercial property, it is critical to resolve a mold situation with assistance from Rochester mold remediation professionals. 
As a nationwide mold removal company, we provide full transparency and communication. Our goal is to keep your Rochester property clean, sanitized, odor-free and mold-free. With decades of experience as a restoration company, our Rochester mold remediation specialists in Rochester are trained to carefully eliminate a fungal infestation. Hiring a professional certified mold remediation company that offers same-day services and compassion is an important part of resolving a mold removal situation.
According to the CDC, mold can thrive in areas where moisture is trapped, particularly after a flooded basement, burst pipe, leaky roof, or other areas of your Rochester property. Our Rochester mold decontamination experts use professional-grade mold remediation tools to target the source of the infestation and prevent future mold growth.
If our mold inspection technicians in Rochester find mold at your property, they can offer same-day mold decontamination services. Preventing the spread of mold is one of the most important ways to protect your investment and health. 
Contact 911 Restoration of Rochester today for speedy and reliable help with mold removal, mold cleanup, and mold inspection. Call us at (585) 283-7249 and please allow us to offer you a free visual inspection.
What Causes Mold Growth in Rochester?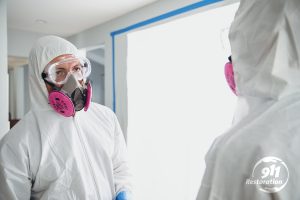 Rochester, Henrietta, and Penfield are hard hit with winter storms, tornadoes, and hurricanes. These natural disasters cause residential and commercial properties to experience common water damage and mold growth situations. From a burst pipe, sewage spills, to a flooded basement — our mold remediation technicians ensure that your property is odor-free and moisture-free. 
911 Restoration of Rochester can assist with same-day mold cleanup and mold damage restoration in Rochester and surrounding areas. After Rochester NY flooding, we ensure that your property does not have additional leaks. We use our mold inspection expertise to ensure that your property will be safe from a future mold infestation. 
With the help from 911 Restoration, we'll tackle mold removal safely and efficiently. 
As a licensed, bonded, and insured nationwide disaster restoration company, our mold remediation experts work hard to dry your property and remove any excess moisture. And, if you suspect a mold infestation, we'd be happy to provide a mold inspection in Rochester to ensure your property is safe and sanitized.
Our Rochester mold remediation experts can offer same-day emergency mold remediation services. Our goal is to help our customers get the "Fresh Start" they deserve through quality mold inspection and mold removal services following flooding or another disaster. 
Our Rochester mold cleanup crew offers the following services for Rochester, Henrietta, and Penfield: 
Drying and dehumidification services

Water damage repairs
As a certified mold remediation company, we provide 24/7 assistance. When you're dealing with a mold outbreak, our mold remediation experts will be at your property within 45 minutes.
As a certified mold remediation company, our technicians are skilled to handle mold decontamination projects of any size and complexity. Call us at (585) 283-7249 and learn how we can help.
Your safety and well-being is our priority. Our mold removal technicians are skilled in IICRC, which means that they have the training to identify and eradicate a mold outbreak. You deserve a "Fresh Start," so let us help you with mold inspection or water damage emergencies. 
What Happens During Mold Remediation in Rochester? 
During mold remediation, our mold inspection technicians will first assess and identify the source of mold. They will work to extract any remaining moisture and begin the complex process of mold removal. 
When you're dealing with an unexpected mold situation in the middle of the night, 911 Restoration of Rochester can help.  Call us at (585) 283-7249 and learn how we can help.