Flood Damaged Electronics: Can You Save Your Business' Electronics After a Flood?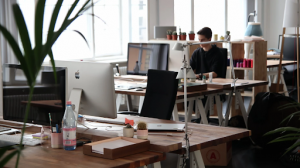 Whether or not you can save flood-damaged electronics depends on the extent of the water submersion. If you see standing water inside your office, you should shut down the power supply or call your utility company to do so before touching anything. The preventive measure eliminates the risk of an electrical fire (or electrocution) in such scenarios.
After that, proceed cautiously to minimize the risks involved in dealing with water-logged appliances and gadgets. The rule applies to natural disasters and incidents like sewage backflows, burst pipes, malfunctioning sump pumps).
Water damage restoration of company electronics requires proper planning and mitigation strategy. We have rounded up the best practices and tips to deal with these situations. 
Let's have a look:
Safety First: Inspect and Create a Recovery Plan  
Salvaging water-damaged electronics might be on your priority list once you have evacuated the flood site. Yet, attempts to restart your water-logged systems and mishandling devices can create more problems. 
That's because turning on gadgets before they are thoroughly cleaned and dried can create a short circuit. Mistakes like these can ruin your devices forever. 
Luckily, our water damage restoration experts have some guidelines you can use to avoid this fate. 
Here's a list of dos and don'ts to follow: 
Don't plug in or turn on electronics. Devices that might have come in contact with flood water or were exposed to high humidity levels due to a water-logged room should remain unplugged. 

Do wait for 24-48 hours before switching on (or disassembling) your electronics, even if there are no evident signs of water intrusion. 

Don't use microwaves, ovens, or other heat-emitting appliances to dry off your flood-damaged electronics. 

Do contact a professional technician or

commercial restoration company

for assistance.
Besides this, you can check for warranty and insurance claim policies to see if the manufacturer or your insurer can reimburse you for the loss. 
In other words, avoid being hasty and tread cautiously by using practical strategies to assess the situation. Additionally, asking pros for help before you intervene could benefit your company. They can use specialized techniques to repair your water-damaged equipment. 
3 Types of Flood-Damaged Electronics & What to Expect
Your company's electronics can be affected by floodwater in three different ways. Our water damage restoration specialists create mitigation strategies based on these situations. They also consider the following questions: 
What type of electronics do you want to restore?

Were the devices plugged or unplugged when they came into contact with water?

How long were they exposed to floodwater?

Are these devices insured?
Other variables include industry-specific questions related to the business you run. Our technicians create a triage after assessing the situation. It allows them to address at-risk devices before they repair minor damages. 
Here's a preview of common types of water damage and their consequences:
1. High Risk: Flood-Damaged Electronics Submerged in Water  
Your electronic equipment might get submerged in floodwater when the water levels rise, or the device topples off into standing water. There's a chance that this water contains dirt, silt, and other impurities. These components might infiltrate the electrical system if the submersion occurs for prolonged periods (hours or days). 
These incidents occur when your staff can't reach your office due to a severe natural disaster. Alternatively, it can happen when a pipe bursts inside the office over the weekend or during the holidays. Due to this, no personnel is available to take care of the leak. 
In both cases, prolonged submersion might create irreparable issues in the internal circuit. You can either replace the damaged components or send the devices for professional cleaning. These remediation strategies can be costly and often temporary. 
Therefore, we suggest replacing the device instead of investing in short-term solutions. You can even ask your insurer to pay the bill if your current policy covers water-damaged devices.  
2. Medium-High Risk: Devices Hit Directly with Water (without Submersion
Electronic equipment can get exposed to water when the roof leaks over it or someone accidentally splashes it with water when navigating through a flooded room. You can reduce risks by placing your devices away from the water source. The sooner you do this, the lesser the chance of permanent damage. 
The flood-damaged electronics that fall under this category can be restored easily, unlike the previous scenario. Commercial restoration services typically include drying, cleaning, and repairs. Technicians also examine the circuit board to look for signs of corrosion. After this, you can switch on the device and recover stored data. 
Despite these positive outcomes, some sensitive devices might need major repairs and replacements. Discuss the feasibility of these solutions to implement cost-effective strategies. 
3. Low Risk: Electronics Kept in High Humid Conditions 
Offices that have sustained severe water damage during floods and have standing water can affect electronic equipment. High humidity levels are unfavorable for sensitive devices such as phones, printers, computers, and laptops. They can get damaged even if they do not come into direct contact with the floodwater. 
Reasons for this include moisture and dust buildup due to excessive exposure. 
Like the previous instances, flood damage restoration experts clean and dry the devices before plugging them. These practices maximize the chances of a complete restoration. If the moisture accumulation is low, your devices can return to pre-flood conditions without undergoing costly replacements. 
The Bottom Line 
In conclusion, you save flood-damaged electronics by adhering to a proper mitigation plan. Use our tips and tricks to reduce imminent danger and contact us for immediate support. Not only will we help you deal with water-logged devices, but we can also handle structural issues too. 
Moreover, our wide range of water damage restoration services covers sewage backups, sanitization, mold removal, etc. These remediation techniques can ensure that your electronic equipment doesn't get exposed to other hazards. In turn, optimizing the recovery phase and making it possible for your business to resume operation with minimum delays. 
Looking for a commercial restoration company near you? Contact 911 Restoration of Rochester for support against flood, rain, and other disasters.